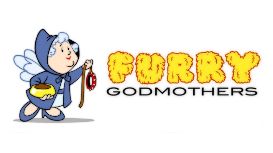 Having lived with various pets we have a genuine desire to ensure they are well looked after, respected and most importantly enjoyed. Leaving pets behind can be a daunting prospect and our aim is to enable pet owners to be able to take a break in the certain knowledge that their pets are being looked after in the manner they have become accustomed to.
We have owned dogs for many years - a Jack Russell called Stanley, crazy cocker spaniel Bruce, Jemma our daft but thoroughly lovable Doberman, Thomas our loyal Golden Retriever, Jake our incredibly laid back second Golden Retriever, and our current house mate - Jess a yellow Labrador, a rescue dog who joined us three years ago at the ripe old age of. Not entirely certain, but we think she was about 9. Jess cares only for her belly - rub it or fill it, she isn't bothered.
Reviews and Ratings
We do not have any reviews about Furry Godmothers available right now.
---